Come ROAR with US!
ROAR will take place in Chinatown and the Lower East Side in the summer of 2022! Every Saturday and Sunday in June, July and August, we'll be in Sara D. Roosevelt Park with activities, programs and classes for the whole family. Pop in for an art workshop or a sunset yoga class, take a walking tour of Chinatown, or watch live performances by the gardens.
All programs are FREE to attend, no registration, and are offered in Cantonese, English, Mandarin, and Spanish!
Print your own festival map!
Download PDF
This Week at ROAR
Our ROAR festival is coming to a close - help us celebrate a summer of uplifting our community on Saturday August 27th from 12pm-5pm! Afterparty 6-9pm across the street at Ray's Bar (177 Chrystie St) with tattoos by Sophie Bee!

12pm FREE CONCERT - Traditional Chinese Music by Mencius Society for the Arts @menciusny + Adult Arts & Crafts w/ @_fabnyc 
12-3pm ROAR Resource Fair Meet & Greet w/20+ amazing Orgs representing various services to/for the public- all inside SDR Playground (Bluestockings, Anti-Violence League, StreetWorkNYC, etc- come get involved!)
12pm-1:15pm @conbody Community CleanUp & City Scavenger Hunt w/ @nyccleanvolunteers Prizes from @jadiswinebar @thefreestoreproject @conbody & more!
1:30pm "Leave Your Mark" LOVETRAIN HOUR w/ @lovetrain111 & @_fabnyc Personalize FREE hats with custom artwork to leave your mark. 
Speeches from Parks Dept heads of staff snacks & raffle at this time.
2pm FREE LIVE performance from Movement of the People Dance Troupe @mopdance
3pm FREE CONCERT @pinclouds Pinc Louds!!! 
4pm "ROAR WITH RAYS!" DJ @isaaclikes_ 
6-9pm Followed by afterparty at Ray's Bar @raysbarnyc 177 Chrystie Street
Resource Fair Participants include:
@bkind_today, @aafenyc, @aafederation, @sendchinatownlove, @bigslittlesnyc, @thefreestoreproject, @bluestockingsnyc, @streetworknyc, @transfigurationschoolnyc, @iss_nyc, @_fabnyc, @immschools, @biobus, @univsettlement, @theyellowwhistle, @untappedstorytellers, @mkgarden_ & more!
Info Booth
Visit our Info Booth on Rivington Street inside the park all summer long to gain information about the festival and participate in fun activities throughout Chinatown and the Lower East Side!
Family Association: A Soundwalk by George Tsz-Kwan Lam
"Family Association" is a soundwalk experience that uses collected oral history recordings from five members of the Chinese-American community who are connected to NYC. Using GPS technology, listeners will hear interviewees' memories of their extended families, how their families emigrated to the United States, and whom they imagine their ancestors to be. "Family Association" embeds these recordings within the sites of five historic "family associations" in Chinatown. As listeners approach these locations in Chinatown, the speech gradually becomes more whole, recalling the way in which these micro-communities have helped generations of Chinese-Americans to both reconstruct and reconnect with their past.
小吃 "Snack" Food Scavenger Hunt!
Festival-goers can come to the info booth to receive a "Little Bites" bingo card!: listing 15 participating restaurants in the L.E.S./Chinatown area. Participants who visit all 15 places by August 26th, purchase at least $5 of food, and turn in their completed card will receive a ROAR T shirt (while supplies last!)
Museum Mania!
New York is home to many cultural institutions that showcase the kaleidoscope of human experiences and the breadth of the human imagination - it's one of the things that makes our city special. Stop by the ROAR info booth for free passes to the Museum of Chinese in the Americas, sign up for a complimentary tour of the Tenement Museum, and learn about other free events and offerings in Chinatown and the Lower East Side all summer long!
ROAR Prize Wheel!
ROAR with US! Share a photo from ROAR on social media, and spin our prize wheel to win some ROAR swag! Prizes include tee shirts, tattoos, wristbands, and coupons from local businesses!
Weekly Events
Saturdays
Sundays
Special Events
August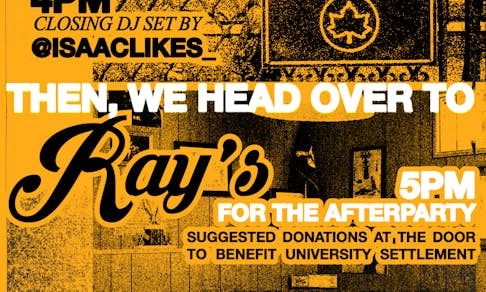 ROAR Resource Fair
August 27,
12pm–3pm